This year, Breakaway joined three of our clients— BlackBerry's QNX Software Systems, Elektrobit (EB), and Ricoh Imaging Americas Corporation—on the CES show floor. Jam-packed with exciting announcements and interactive demos, CES 2016 was one for the books!
First up…EB, a leader in embedded automotive software with more than 25 years working with the top carmakers. EB showcased its vision for the future of autonomous driving—a trending topic of discussion at CES this year—at its booth. Making it easier and safer for drivers and passengers to interact with cars is a major part of the EB vision, which it showcased in a candy apple-red Audi TTS Coupe. The Audi was equipped with Virtual Cockpit, an innovative human-machine-interface (HMI) concept based on multi-modal user interfaces and a fully digital instrument cluster. The Virtual Cockpit incorporates EB street director software for its navigation and the company's EB GUIDE development tool was used to create graphics and natural-language understanding (NLU) speech control.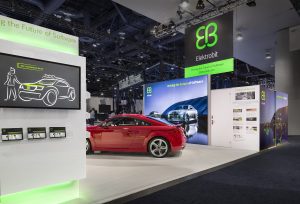 EB was also front and center on the Ford Broadcast Stage. EB sponsored a handful of activities, one of which included a Q&A session with World Champion Drifter and Professional Funhaver Vaughn Gittin Jr., who currently competes in the Formula D series in his 2016 Monster Energy Nitto Tire Ford Racing Mustang RTR. How cool is that?!  The cherry on top was a ride for EB's director of global marketing, Manuela Papadopol, in the Ultimate Fun Haver—Vaughn's 2015 Ford F-150 Eco-Boost truck—through the dunes outside of Las Vegas.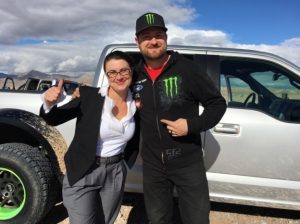 The company had great meetings with journalists and analysts from around the world, and hosted an exclusive media dinner for journalists from Germany and North America.
The LVCC Central Hall, filled with gizmos and gadgets, was where Ricoh Imaging came to life. This year's primary focus for Ricoh Imaging was the recently-launched Ricoh Theta S (which was also a CES Innovation Award winner), a 360-degree, fully spherical camera that allows users to interact with photos and videos in a whole new way. The Ricoh Imaging booth featured a custom silver dome, a gesture-controlled interactive whiteboard and an opportunity to step into the world of virtual reality.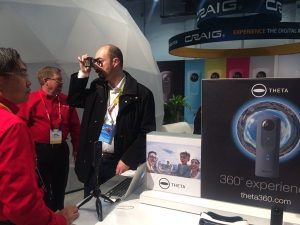 The Theta S was a hot topic at CES 2016, making a huge splash with fans of 360-degree photography. Its popularity has led to media coverage in major publications including Bloomberg, USA Today, WIRED, Financial Times and The Next Web.
To catch a glimpse of the Theta S in action at CES, check out IDG's Nick Barber's interview with Ricoh Imaging President Jim Malcolm. Don't forget to scroll around to see the full 360 view of the Ricoh booth!
Stepping back into the automotive world, our client QNX Software Systems made several exciting announcements at CES focused on the building blocks needed to make autonomous systems possible, in addition to a collaborationwith Ford on its SmartDeviceLink technology.
It would not be CES without a new QNX technology concept car. This year at the show, QNX Software Systems unveiled its latest technology features in a specially modified 2016 Toyota Highlander, as well as in the QNX reference vehicle, based on a Jeep Wrangler. Both vehicles demonstrated how QNX-powered Advanced Driver Assistance Systems (ADAS) can perform realtime analysis of complex traffic scenarios to enhance driver awareness or enable various levels of automated driving. The company also demonstrated how vehicle-to-vehicle (V2V) and vehicle-to-infrastructure (V2I) communications powered by the QNX Neutrino OS can help prevent collisions and improve traffic flow for safer driving. The demo featured an interactive command center that presents a variety of traffic scenarios, including intersection collision warnings, red light warnings, early brake-light warnings, and green light speed optimization. Check out a demo of all the exciting booth demos here .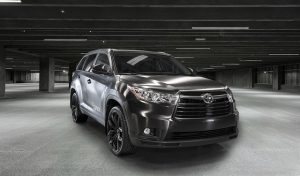 With more than 150 pieces of coverage including The Wall Street Journal, Bloomberg, The Washington Post, The Huffington Post, and ARS Technica, BlackBerry's QNX Software Systems continued to wow the world with its automotive technology enhancements.
CES is one of the most exciting times of the year for us, and this year was no different. Breakaway is thrilled with the huge successes for all of our clients and we can't wait to see what's in store for next year.